reel

tape

LP

8-track
trans•fers
Audio Media Conversions
Analog to Digital • MP3s & WAVs
REELS • CASSETTES • DISCS • CDS • RECORDS & LPS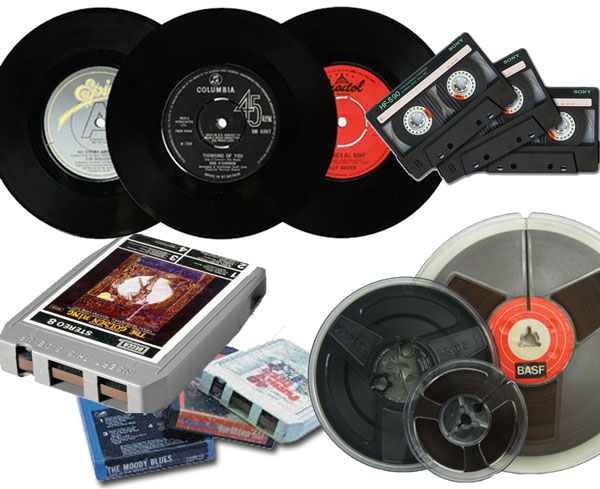 REELS • CASSETTES • DISCS • CDS • RECORDS/LPS
** TEMPORARILY CLOSED ** Digitize your media, they won't last forever on tape or LP! We'll digitize your Audio Reels, Cassettes, Records/LPs, CDs, 8 Track Tapes, and other audio media to MP3s, WAV Files, CDs, Flash Drive, or Cloud Storage. Digital files can be uploaded, emailed, and archived! All work is completed IN HOUSE, by hand, so we oversee your project from start to finish. Bring them in today!
NOTIFY ME WHEN APPTS OPEN UP AGAIN!
Take Advantage of This Time Off!
All of our work is completed in a designated MEDIA LAB. One technician is assigned to your job. We quality check and test all completed jobs, guaranteeing the best possible results from your media. Your satisfaction is GUARANTEED!
Please think twice about sending your films in the mail.
We encourage you to use a local conversion lab for the safety and security of your treasured media - SHIPPING INSURANCE DOES NOT COVER PERSONAL ITEMS such as your beloved family treasures, they are irreplaceable. If you must send them out, please do your homework to ensure that you are sending them to a professional with liability insurance and a solid reputation. With ADEK, rest assured, we are a licensed and insured brick and mortar business.
Audio Cassettes & CDs
Cassette to CD/MP3/AIFF/WAV
CD to MP3/WAV
Mini Cassettes to CD/MP3/WAV
Editing options available.
Audio Reel to Reel Tapes
The lengths of audio reels vary, the factors are film length, speed, and whether the tape has been recorded on both sides. Digital files or transfer to CD.
Audio 1/4" Reel to Reel
Conversion to CD/MP3/WAV files
$35/hr or $35/Reel
Bulk Rates as low as $25/hr.
Audio 1/2" Reel to Reel
Conversion to MP3 or WAV files
Current Studio Rates Apply $75/hr to $125/hr
Editing options available.
Records • LPs
LP transfer to Digital (MP3 or WAV)
Digital Files to CD
Record cleaning available.
Editing options available.
8-Track Tapes
8-Track tape to MP3 or WAV
MP3 or WAV to CD
Editing options available.
PLEASE NOTE: The foam will need repair in most 8-Track tapes ($15 min.)
REELS • CASSETTES • DISCS • CDS • 8-TRACKS • LPS